PRESS RELEASE: A. Le Coq 58th Moonsund Regatta – from Muhu to Saaremaa in upwinds and over the rocks |
The fourth leg of the regatta was not easier for the fleet than the previous races. Decent western winds of 10-11 m/s meant sailing in the wind's eye and also many teams had to come in more or less direct contact with "rocky terrain". The good thing is that all those who preferred it on "the rocks" managed to be on the starting line in the morning after some minor repairs. Today the fleet is headed for Pärnu.
Captain of the ORC I leader Olympic EST463 (Dago YC) Tiit Vihul declared in Kuivastu that this was "their weather" and the result in Roomassaare proved it – third race win out of four ahead of Priit Tammemägi's yacht Premium EST499 (Kalev YC) increased their overall lead to four points. Kuivastu-Roomassaare race third place went to Ain Pomerants and Merion-X EST710 (Kalev YC).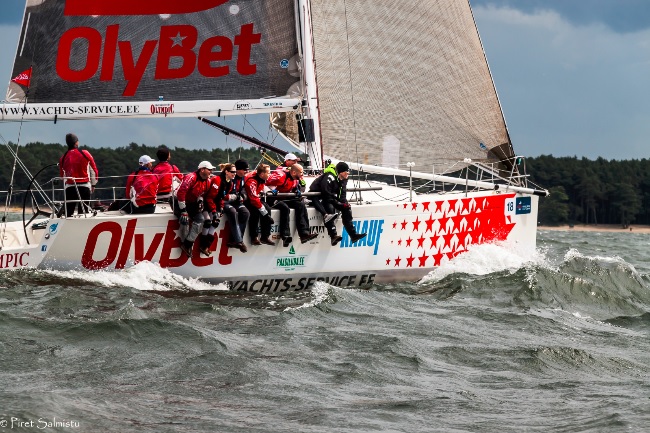 Olympic EST463, Tiit Vihul, Yacht Club Dago (c) Piret Salmistu
After today's (fifth) race the worst score will be discarded, which will, for sure, bring along surprises and changes in general results.
ORC II superior result among 17 yachts was delivered by Sugar 2 EST711 with Jaan Akermann at the helm (Pärnu YC). The overall leader Viljar Sepp and his Jazz EST465 (Kalev YC) came in second despite running into rocks and sustaining some damage to the keel. Alari Akermann's Merepärl EST406 (Pärnu YC) was third by a couple of seconds.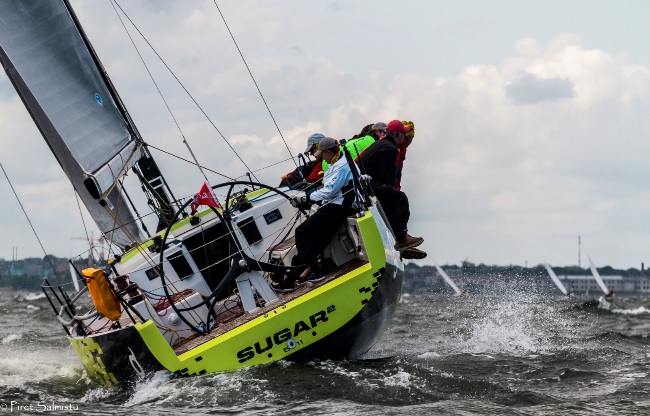 Sugar 2 EST711, Jaan Akermann, Pärnu Yacht Club (c) Piret Salmistu
ORC III leader Andres Haavel on Kadri EST185 (Saaremaa Merispordi Selts) is increasing his lead. Jaan Tiidemann on Blanca EST73 (Kalev YC) came in second and Eiki Keert on Edasi EST11 (Haapsalu YC) was third.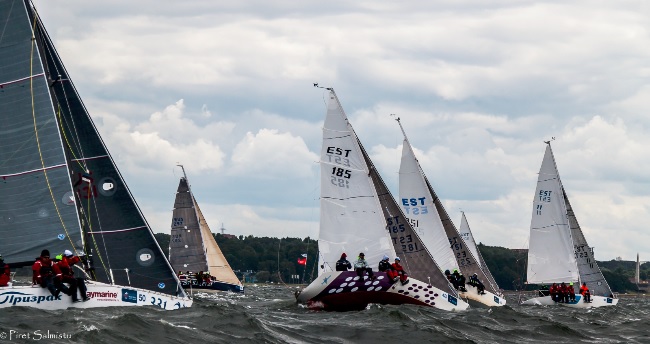 Kadri EST185, Andres Haavel, Saaremaa Merispordi Selts (c) Piret Salmistu
In ESTLYS group I and among the 18 yachs racing Ain Jalasto's team on Fanatic EST239 (Kalev YC) was five minutes faster than the competition. Alar Ivanson on Tessa EST234 (Kalev YC) was second and Riho Kalve on AquaMarine EST542 (Kalev YC) third. The leader of the group is still Aleksandr Kulikov on yacht Mir RUS908 with 9 points.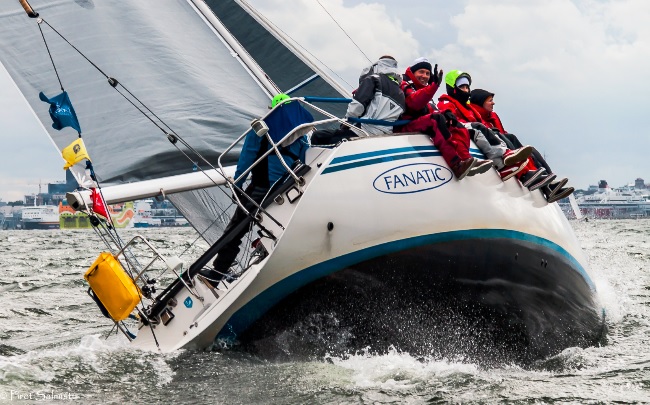 Fanatic EST239, Ain Jalasto, Kalev Yacht Club (c) Piret Salmistu
The fastest yacht in ESTLYS II was Latvian Arabella LAT173 (Usmas YC) with Stanislavs Backans at the helm. Mikk Metstak's Brigitta EST295 (Kalev YC) came in second and Mart Allik's Lili Marleen EST216 (Pärnu YC) was third.
ESTLYS III took the longest to reach Roomassaare. The last ones to cross the finish line were Teet Kamarik and Lust EST284 (TOP) after twelve hours of sailing. The winner of the race was Pille Kaas on Aurora EST575 (Haapsalu YC); Margus Tasa on Mercurius EST45 (Saaremaa Merispordi Selts) came in second and Erki Kilusk on DiWeiss EST723 (TOP) third.
FOLKBOOT group was spared of the headwind race and they proceeded to Kihnu to start sailing towards Pärnu today. The first boats to come in were: Ott Kolk on Ahti EST19 (Saaremaa Merispordi Selts), Olev Oolup on Tuuli EST18 (Haapsalu YC) and Peeter Välkmann on Tee Chee EST F38 (Neeme).

Kuivastu-Roomassaare race was sponsored by Euronics but award ceremony will take place in Pärnu as the last teams came in only after midnight. The fleet started for Pärnu at 10:00 whereas crosswinds and tailwinds are expected. First yachts are expected to arrive at 20:00.